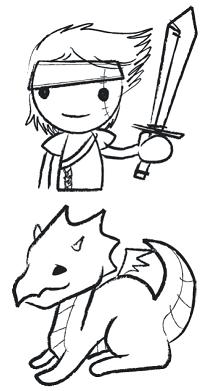 Dungeons & Dragons for ages 6 and up -

To help promote their upcoming novel Monster Slayers, Wizards of the Coast has put together Monster Slayers: The Heroes of Hesiod, a stripped-down version of Dungeons & Dragons that's fast, fun, and playable by adventurers as young as six. Best of all, it's completely free!

The game itself is a very simple version of the D&D combat rules (so simple that they could have come from any previous edition), and the adventure that's included doesn't involve a lot of actual role-playing, but any good Dungeon Master will be able to draw that out of the players with a little effort. To play, you'll need a copy of the PDF, pencil and paper, a d20 and d6 (or three d6s if you don't have any d20s lying around), and some adventurous friends.

The page for the site also briefly mentions the benefits to young people from playing games like Dungeons & Dragons, and even suggests that this may be a good "starter package" to introduce RPGs in a library program (see Terra Libris). Read more and download the PDF here: www.wizards.com/dnd/Article.aspx?x=dnd/4dnd/monsterslayers

(Thanks to JJ Lanza for the link.)




Dr. Rotwang! and his daughter's first D&D game -

On I Waste the Buddha With My Crossbow, Dr. Rotwang! tells the tale of his five-and-a-half year old daughter's first game of Dungeons & Dragons.

It's so great that I'm not going to quote any of it here. You have to read the whole thing for yourself. I'm just going to say that it's a perfect example of why it's good to share such a creative and imaginative hobby with your children.

Read it. Then get your kids together to play some D&D, or any other RPG that you think they would like. And if you don't have kids, go get someone else's. (With permission, of course!)





Villains for Kids at the KORE blog -

The electronic journal of the KORE role-playing game has begun to post weekly entries on "Villains for Kids." These are descriptions of bad guys that can be dropped into an adventure game for young people - no statistics are given, so you can use them with the rule system of your choice.

The series begins with first dastardly fiend, The Tricky Trickster, and more are promised each week. Kevin, the author, has even been kind enough to tag the log entries for ease of reference. Just visit www.korpg.com/blog/?tag=villains-for-kids when you're in need of a good bad guy.



A Practial Guide to the

Practical Guides

- I've just completed my report on the

Practical Guides

, an excellent series of books published by the Coastal Wizards. It includes a mini preview of some of the books in the series, and some tips on using them in your adventures. You can read it here, if you are so inclined.





ORIGINS EXCURSIONS A ROUSING SUCCESS!


I have been back from the

2009 Origins Ludic Entertainment Convocation

(known by most as the Origins Game Fair), for a couple weeks now, and I've only just recently found the time to prepare a brief report.

I'm happy to announce that all seven of my Adventures for Young People were an incredible success! All but two seats were sold before the convention even began (and both of those were snapped up by my friend Sean on Wednesday evening). I did have a couple of no-shows, as usual, but those were filled each time by generic token holders.

You can read more about the individual adventures in the full Origins report on the Escapist blog.

(As always, if you want to get in on the fun next year, be sure to register early, and don't be too shy to show up with a generic token if an event fills up!)




Fear The Boot

on Roleplaying With Kids -

Fear the Boot,

an internet radio broadcast that I frequently enjoy, has recently released an episode about roleplaying with young people. To have a listen for yourself, tune your internet radio to these co-ordinates.

(Please bear in mind that while it is

about

children, the Fear the Boot show is not necessarily

for

children. Please listen with discretion.)



Origins Adventure Itinerary Announcement - I have submitted the adventure itinerary
for this year's Origins Ludic Entertainment Convocation (or as it is more commonly known, the Origins Game Fair), and I am currently awaiting approval from the authorities.

For now, here is the tentative schedule - but keep in mind that this schedule is subject to change. I will post an update to the Dispatch when I have more information, including when registration will begin. Remember, these events sell out quickly - in fact, most of last year's events were sold out two weeks before the date of the convention! So if you'd like to join us, register as early as possible.



THU 1:00-3:00pm Toon: Supertoon!

- The roleplaying game of cartoon madness can only be improved upon when you make it the roleplaying game of SUPERHERO cartooon madness! Save Stalwart City from evil!

THU 3:00-5:00pm Fuzzy Heroes -

The classic wargame that uses stuffed animals as miniatures. This event will include roleplaying elements in the game. Bring your own toys if you like, and we'll stat them up on the spot! (If you do, please try to arrive a little early to give us more time for adventuring.)

FRI 10:00am-12:00pm Tooth & Claw

- The dinosaur RPG. Need I say more?

FRI 2:00-4:00pm Faery's Tale

- It just wouldn't be right to

not

have a

Faery's Tale

adventure this year. This is usually the first event to sell out, so you have been warned!

SAT 10:00am-12:00pm Toon - Random Adventure

- In honor of the chaotic and impulsive nature if

Toon

, I will generate a random adventure and run it on the spot! Even the characters will be random! Anything goes!

SAT 2:00-4:00pm Mazes & Minotaurs

- The Old School RPG of Harryhausenesque adventure! Don't know who Harryhausen is? Go watch

Clash of the Titans, Jason and the Argonauts,

and the

Sinbad

movies and get back to me.

SUN 11:00am-1:00pm Monsters and Other Childish Things

- A wonderful RPG about kids and their monsters. See my previous post to the Dispatch for more information on this one.




Monsters and Other Childish Things - I received a package on the front step of Awkward Labs this morning: a review copy of Monsters and Other Childish Things, an adventure game by Arc Dream Publishing, along with two supplements for the game -

Curriculum of Conspiracy

and

Dreadful Secrets of Candlewick Manor

. Here is how the game is described, in their own words:


Welcome to Monsters and Other Childish Things, a funny, frightening, action-packed roleplaying game about kids and the people who matter to them most — their friends, family and loved ones. And their horrifying pet monsters.

Monsters and Other Childish Things is perfect for new gamers young and old, and for all gamers who like a little humor with their horror. Players take the roles of ordinary kids whose best friends are slavering monstrosities from beyond time and space — and that's already enough to get them in all kinds of trouble with parents, school principals, friends, the Monster Investigation Bureau, mad science teachers, wannabe wizards, you name it. Can you make it through a school day without having to explain why your monster ate the substitute teacher? We'll soon find out.

I plan to add this game to the Atlas, and put it through some tests, very soon - but until then, I wanted to make sure I helped spread the word. Just paging through this volume and skimming the artwork, setting, and rules, I am already convinced that we will have a great time with it.

(Educators, take note - my box of goodies included a one-page teacher's guide that can be downloaded from the Arc Dream website. And other game publishers, take note - providing a teacher's guide for your adventure game is a

really neat idea!

)


---
Donahoo Keeps Up the Good Work! - Our good friend Daniel Donahoo does it again with another post on Wired Geekdad about adventure games with young people - Setting Up RPG Groups for Kids

In case you haven't seen his previous missives:


Don't miss them!
---
Gnome Stew Gives YP Advice - The excellent roleplaying blog Gnome Stew (which you should already be reading regularly for roleplaying advice and ideas) just published D&D Burgoo: Adventuring for the Young'uns, a list of tips for running

Dungeons & Dragons

for young people. Some of the items have the same general idea as my How to Role Play With Young People page, but there are some others worth checking out, too - and none of the advice is exclusive to

Dungeons & Dragons

.


---
Two Upcoming RPGs For Young People - During some of my recent digital excursions, I have discovered two upcoming adventure games that seem to be a good fit for playing with young people:
Do: Pilgrims of the Flying Temple appears to have a similar style to the popular cartoon series Avatar: the Last Airbender. Here is how the site describes the game:
Do: Pilgrims of the Flying Temple is a coming-of-age road trip through a fantasy universe that lightly mixes Buddhist and Taoist concepts into a wide range of genres, from fairy tales to space opera. You and your friends play young flying monks sent on a pilgrimage by the elders of the mysterious temple in the center of the sky.
When people have a problem that they can't resolve, they write a letter and stash it someplace special. Under a statue, in the hollow of a tree, tied with red ribbon to an albino eagle... wherever seems most reverent. The letter eventually finds its way to the temple within a day or two, appearing on the temple's doorstep. How the letters travel thousands of miles in a single day isn't really important.
Each session, you play these pilgrims as they visit a new world, intervene on the residents' problems and attempt to pursue their own personal dreams in the process.
Do: Pilgrims of the Flying Temple is being published by Evil Hat Games, who also produced the award-winning Spirit of the Century. The first public playtests are being held at Dreamation 2009 in late February and the website should have a major update around then, too.
Witch Girls Adventures is a "Drama Diaries" adventure game based on the comic book of the same name. The official site is a little difficult to view (white text on pink internet paper isn't the best combination), but the game seems to have a lot of promise for those interested in adventures similar to Sabrina the Teenage Witch, Harry Potter, and Wizards of Waverly Place:
In the world of Witch Girls Adventures, characters have adventures in both the "real" and magical world. They can fly through the air on brooms, learn to control time and space at one of the many schools of magic around the world, and even turn people into frogs!
But everything isn't all wands and potions. Being a Witch Girl can be dangerous, and hiding your power from most of the world isn't as easy as it sounds. Not to mention the homework they give in Conjuration Class!
Channel M is also planning to release 13 Magazine, a regular magazine to supplement the game with "new Allies, enemies, equipment, story hooks, cliques and more... along with comics, stories and art."
What makes this game unique is how it is made with female players in mind, though male players aren't discouraged from participating. As the site's FAQ tells us, "...in the standard game there are no wizards but in your game you can do what you please."
Witch Girls Adventures is scheduled for release in June of 2009.
---
GeekDad Earns the YPAL Seal of Approval - It has come to my attention that Daniel Donahoo, a reporter for a publication titled Wired GeekDad, has been publishing editorials on the benefits of adventuring with young people. There have been two such missives to date:
Teaching Kids to Roleplay is Only Natural is an excellent introduction, with tips and game suggestions for different age groups.

A Starter Guide to Roleplaying With Kids mentions one of my favorite strategy games, Fuzzy Heroes, and how to "hack" it into an adventure game (though I believe that by hack, the good Mr. Donahoo means to alter it, rather than chop it to pieces with an axe).
Here's hoping that Mr. Donahoo will continue in this vein for many more installments!

Christinariot Shows Us How It's Done - Over at the Kids-RPG Online Electronic Discussion Forum, the industrious and enthusiastic Christinariot explains how she ran a superhero adventure for three young people (ages 2-1/2 to 3-1/2). Of particular interest are her ideas on keeping her players interested and engaged in the story. Part one is currently up, and I am eagerly awaiting part two.
---
9 October, 2008A.D.:
Game designer F. Douglas Wall is looking for people to playtest his upcoming RPG based on L. Frank Baum's Oz. Since this is a roleplaying game that would be of particular interest to many young people, I have agreed to help him find suitable playtesters. If you would like to participate, you can contact him at konradthebarbarian /at/ yahoo /dot/ com.
---
2 July, 2008A.D.:
It is with great pleasure that I announce the success of all of the adventures that were set upon at the 2008 Origins Ludic Amusement Convocation! A fine group of adventurepersons volunteered for each, all of them ready to strike out into unknown (and occasionally very silly) territory.
I will eventually have reports on all of the adventures on the Origins 2008 Adventure Report page, so please keep checking back. I also plan to have all of the adventures, complete with characters, in a PDF, ready-to-run format, so that you can download them and enjoy some adventure at home! Watch this space for the status of both of these.
Already, I am plotting new courses for adventure in 2009! I have a few ideas for future adventures, including - and I may live to regret this - a LARP, or Live Action RolePlaying game. If you have any suggestions of things that you would like to see at the next Young Person's Adventure League program, please feel free to contact me at
!
If you enjoyed the events at Origins, or would like to let the good people at Origins know how much you appreciate role-playing programs for young people, please consider contacting them to let them know how you feel. You may contact Trey Reilly via electronic post at programs@gama.org. Be sure to mention my (real) name (W.J. Walton) and The Escapist/Young Person's Adventure League when you do so!
---
20 May, 2008A.D.:
Your friend and Adventure League chairman, Dr. Awkward, will be hosting a series of excursions at the Origins Ludic Amusement Convocation in Columbus, Ohio during the last week of June.
Or, in layman's terms - I will be hosting a series of adventure games for young people at the Origins Game Fair this summer. If you are planning to attend, please look for me!
For more information on the games I'll be hosting, visit the Origins 2008 Excursion Agenda page.
The events can fill quickly, so please register as early as possible - and if you don't get a chance to play in the game that you wanted to, stop by just to say "Hello" - I may even be able to arrange some off-the cuff adventures while I'm there.
See you in Ohio!
---
13 July, 2007A.D.:
The RPGs for Kids events that I organized for the Origins Game Fair were a resounding success! Both events sold out completely, and all attendants were sturdy, stalwart folk, ready for adventure. A grand time was had by all!
For the curious who were unable to attend - I ran one adventure each of TOON and Faery's Tale. Both games were attended by young people and seasoned adventurers (moms and dads) alike. To see a full report on the adventures, click here.
Due to the success of these expeditions, I feel the only proper course of action would be to organize even more of them next year at Origins 2008, in order to give more young people the opportunity to participate. I am plotting more courses even now for expeditions to Meddling Kids, The Zantabulous Zorceror of Zo, The Prince's Kingdom, and TOON and Faery's Tale, of course!
If you happen to be one of the players who participated, I thank you for making my events something special, and I hope to see you next summer!
---
30 May, 2007A.D.:
John H. Kim, captain of the excellent RPGs for Kids page, has recently posted a report, complete with photographs, of a recent adventure he helmed for a young lady (and several of her friends) at her 11th birthday party. Visit Capt. Kim's on-line paperless journal to find out more!
Young Person's Adventure League - Main - FAQ - Atlas - News - Notebook - Toolbox